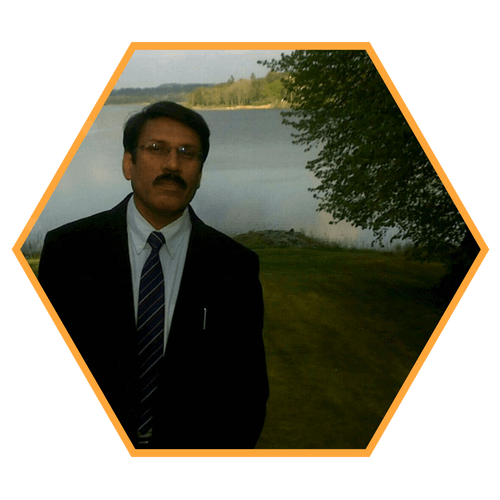 B Jagadeesh        
Jagadeesh comes with a mosaic of rich experiences in HR & Leadership space. His exposure and learnings emanate from a well-diversified spread spanning across large Indian family managed businesses to MNC's in multifarious roles and responsibilities.
He is currently part of Saville and Holdsworth Limited – Shl Assessor Community and also Practice Head at Leap2Excel Consulting.
Jagadeesh was Director and Head HR of India Region for Danfoss Industries till Q4 of 2017.  During his tenure in Danfoss amongst other things, he pioneered Assessment Development Centers strengthening HiPo Engagement and steered policy and Compensation Benefits integration as part of Mergers and Acquisitions. He also partnered with Sales Leaders in spearheading Distributor Coaching and Development in an attempt to harness Distribution Chain efficiencies. That apart, as part of  engineering tomorrow's, he co-opted Millennial Engagement through policy and platform innovations.
Jagadeesh is a Commerce Graduate and Post-Graduate in Human Resources. He is registered for Ph.D. He was previously in Leadership positions at Fosroc Chemicals as Country Head HR, General Manager HR in SKF Bearings, Director HR in Essilor India. He was also in Indian business houses JK Tyres as General Manger HR (JK Group) and CIFCO – Cholamandalam Investment and Finance Company as Head HR (Murugappa Group).
A track record of transformational and HR Leadership predominantly in Engineering Industry and also in Services. In a nutshell, his exposure highlights are;
1.HR Strategy and Change Management
2.Top Management Sounding board and Coach
3.Performance Management & HiPo Engagement
4.M&A (Merger and Acquisitions)
5.Comp and Ben – Restructuring & Stock Options
6.Employee Engagement – "Millennials and The Experienced"
Jagadeesh has worked closely with Confederation of Indian Industry. He was Convenor CII HR Panel for Chennai Zone till July 2017. In the past, he was also on CII panels in Mysore and on FICCI-BCIC – Bangalore Chamber of Commerce and Industry.
Certifications/accreditations:
OPQ32 and Occupational Testing – Shl
Belbin INTERPLACE & Team Role–Barrie Watson & Dr. Meredith Belbin, CERT, UK
Certified Assessor; Assessment Development Center, by Saville and Holdsworth – SHL & Mercer Consulting
Certified Management Trainer – AIMA