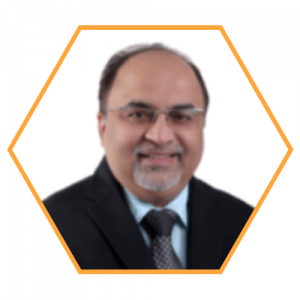 Samir Kukade        
Samir is Commerce graduate and has a master's degree in Human Resources from Pune University.
He also possesses a Diploma in Labour Laws from Symbiosis College.
Samir has 31 years of rich work experience out of which for 21 years he was working in Multinational Companies and he spent 11 years in Indian conglomerates. For the last 10 years, he has been working as a CHRO of large companies.
In his latest assignment at Praj Industries Ltd, he was CHRO & President – Human Capital, responsible for HR, IR, Admin & CSR. Prior to that he worked for Lear Corporation (a US MNC), where he was the CHRO & Country Director, responsible for HR, IR, Legal, EHS and CSR. For 20 years, he headed the HR function or worked as part of the Country/Division Management Team and was
involved in all aspects of Employee Life Cycle processes – attracting, retaining and developing talent.
At Praj Industries and Lear Corporation he led the team of 40+ professionals in creating and executing HR practices and processes to enable significant change in organisational results. In this role he made significant cultural change resulting in reducing attrition % from 28% to 7% while covering all aspects of people dimensions. He revamped people policies and systems to support
changing needs of the business. His Leadership Development intervention groomed 25 leaders out of which few occupied Sr. management positions during his tenure. He was instrumental in making organisation designs, restructuring, and transformation initiatives.
In Brinton's Carpets, he led the HR function to convert Greenfield project into a fully blown mature organisation which was fully an EOU unit. He has equal competence in the Industrial Relations /Labour issues space where he has handled internal as well as almost all major external unions. He has succeeded in closing more than 14 collective bargaining wage agreements.
He has worked extensively in the areas of HR Policies & Processes, Scorecard based assessment tool,Hi-pot Talent Management & Succession Planning, Performance Management, Compensation & Benefits systems, Organisational structuring & Development, Facilitation, Coaching, Employee Engagement, EHS, Industrial Relations and CSR.
He has always worked with the mission to create a difference for the organisation and employees. Samir is a Certified Mentor. He has certification in Predictive Index, GhSmart Interviewing Methodology and Thomas Profiling tool. He has undergone training for 6 Sigma &  lateral thinking methodology.